3 Tools, 1 Product
Web app, mobile app and Chrome extension enable information at your fingertips – in any scenario. Your analysis history, settings and preferences are shared across all 3 tools, so you don't miss a beat.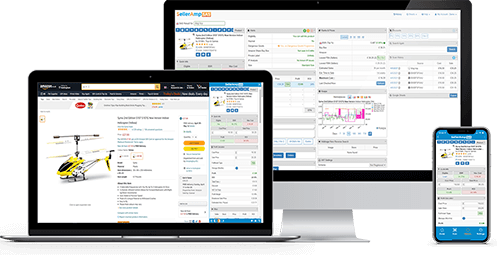 Choose Your Marketplace
Select your default marketplace and SAS provides the analysis. With a single click even take a look at analysis in some other marketplaces. Don't see your marketplace? Let us know.
Enables Comprehensive Analysis
SAS ultimately answers the questions you need to know.  Understand all aspects of the product you analyze and take advantage of SAS features. Click below to learn more.
Quick Info
Fast glance at topics that can quickly make your decision including your maximum cost, profit and ROI.
Alerts
Easily see if you are ungated and approved, and if there are Hazmat, Dangerous Goods, IP or PL Issues.
Offers
Listing of other sellers, their stock levels, prices and impact to you for matching their price.
Ranks & Prices
Easy access to current and historic views of product BSR, Buy Box, sale prices and estimated sales.
Profit Calculator
Breakdown of costs and fees and Amazon payout estimate. Easily tweak cost and sale price to see the impact.
Keepa
You have simple access to Keepa charts to aid in your decision-making – all at your fingertips.
Notes & Tags
Apply Tags to more easily filter and find products in the future. Make notes on any product as well. Both Notes and Tags can be used to search your History.
Google Sheets
Analyze in bulk by exporting your analysis data from SAS to a spreadsheet via Google Sheets. Create your own platform to get a larger picture of the products you look at.
Seller Central
Link to your Amazon Seller Central account and in a single click: add the product to your inventory, check for inventory of the product, confirm any pending orders or hit the SC homepage.
Set Your Own Objectives
You have your own objectives in running your business. Tell SAS your goals and let SAS tell you if a product will meet them.
Access Your Analysis History
SAS lets you easily access your analysis history, no matter which tool was used. So if you found a product previously, and want to re-examine it just visit your history and filter to find it.
Speed that Matters
Speed is key when sourcing. You need to find products fast, buy them and sell them. SAS prioritizes speed in a number of ways…from scanning barcodes through to searching your data.
Paul Sheriffs

Initially I was hesitant to make the switch from another app, but SAS has become my go-to tool for analysis. In fact I use it for far more than just sourcing, it has become essential to my business and I use it more often each day than any other tool. Al and the team are at the forefront of innovation in this space, and the advances they have brought have made sellers' lives easier everywhere. And it is ridiculous value, they really should be putting the price up!

Amazon seller of four years

Keiran Mussell

Using SAS transformed our RA/OA sessions and really helped our business grow.

The app is constantly improving with great new improvements and features added frequently.

The most important aspect for us though is the help and support from the team, willing to take suggestions and there to answer any questions we have. Overall, we cannot recommend SAS enough to new and experienced sellers alike.

Hampstead Homes

Alex Haydon

Hands down the best manually sourcing tool on the market and I have tried them all for my team. It's so well priced and with so many features with more added almost weekly in response to user requests!

To have a direct line to the development team when issues arise (because AZ does change the game for app providers on a dime as well) as well as feature requests is a godsend. None of his "we'll have to raise it with the developers and get back to you" putting your business on hold. You get the warm fuzzy from Al Carlton and the SellerAmp team that they know their tech powers your business and no tech = no profit so any downtime is lost profit. Once you've had good service then you know.

You also get a browser extension, web app AND mobile app for the price. None of this splitting it up and charging you extra.

Hampstead Homes

Pedro Hunter

I have used SAS since I started selling on Amazon. SAS is a great piece of software and whilst I have used and trialled other pieces of softwares for my Amazon business that have come and gone, SAS is the only piece of software I have consistently used and stuck by. Its clear, precise and an essential piece of kit to analyse potential deals. Reliability is second to none and any issues I have had have been responded to promptly. Price wise I doubt you you will find anything cheaper that does as good a job as this. Excellent value for money.

Amanda Hill

SAS never fails to impress me – the constant upgrades of a product that already helps my sales soar to 7 figures is a huge bonus. If you are one of our clients the first thing we recommend you do it try it out – why do ecommerce without insider info that helps your business soar from Day 1. Take the guesswork out of how you run your business and beat the odds of Amazon sellers who stay the course – this is one investment you cannot afford not to have – worth its weight in feathers and that is a lot!!

iDiva

Emily Knowles

Put simply I couldn't run my 6 figure Amazon business without SAS. It's the vital component for my buying decisions. It helps me to determine whether to buy the ASIN (or not), if so how many to order and even tells me the maximum I should pay for the item and how quickly it estimates I will sell it based on the current competitors on the listing! Oh, and I have squeaky clean account health thanks to the IP warning system in place too! Just like Amazon SAS never stays still. Al is continuously bringing out new features to solve sourcing problems we didn't even realise we had! I also want to give a shout out to Alison who is hot on it, answering any questions or issues users have. Awesome software, superb value, designed by a genuinely great guy. What more could you want?

Amazon Sellers Knowledge Bank

Steve Brady

SellerAmp SAS is our preferred sourcing tool and the one we teach new sellers on our Amazon courses. In our opinion it's the most user-friendly and powerful tool on the market.

Ecom Support Services Ltd