SAS offers a wealth of features that enable you to source more successfully whether RA (Retail Arbitrage), OA (Online Arbitrage), Wholesale or other methods. You find a product, SAS will tell you if it meets your profit and ROI requirements, and so much more. In seconds you will get the full and clear picture of the realities of investing in a product. 
3 Tools, 1 Product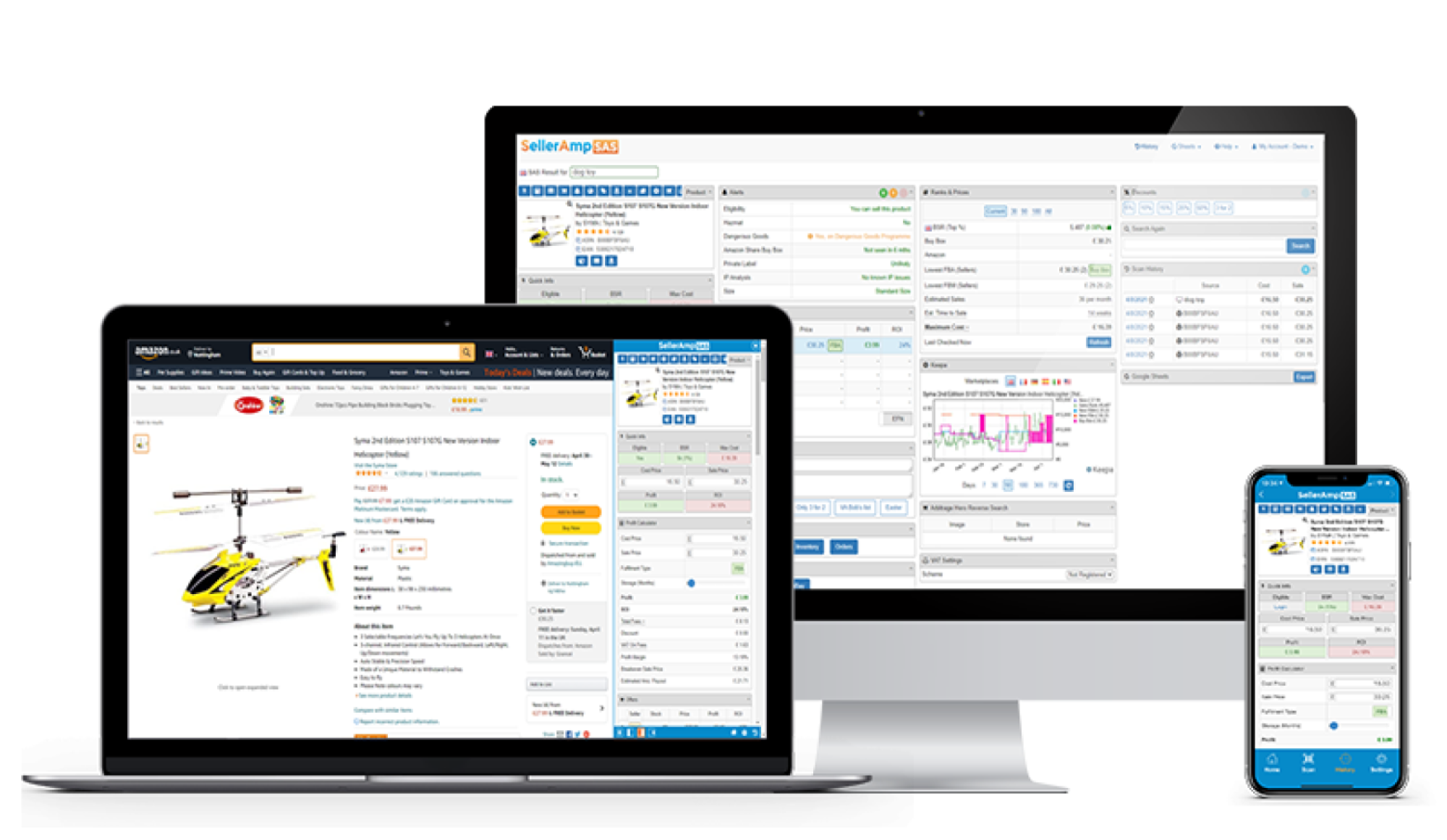 With the SAS mobile app (Android & iOS), Chrome extension and web app, you have the power to understand the profitability of a product…anywhere: 
On the go: the mobile app is the perfect tool for RA. Scan a product UPC or EAN with your mobile device – phone or tablet – to see results. Or search by text. 
Side by Side view: SAS Chrome extension gives you analysis within the Chrome window, while on Amazon or any website. 
Full screen view: SAS web app enables a deep dive with all the analysis on your computer screen.
The tools all share the same settings and history, so your results will not vary and when you search in one tool, results can be seen in the others.
Comprehensive Analysis
SAS offers helpful and relevant information grouped into panels, making it easy to hone in on the information to answer those ever so important sourcing questions:
Quick Info Panel
A fast glance at the most critical analysis details so you determine whether to analyze further:
Eligibility to sell the product
Maximum Cost (Max Cost)
Profit & ROI based on your settings
BSR and whether it meets your requirement
Entering your Cost Price and Sale Price will instantly recalculate the information too.
Alerts Panel
See which issues may prevent you from achieving your profit and ROI goals. Alerts panel helps you understand:
Eligibility to sell
Is the product considered Hazmat/Hazardous Material or is it on Dangerous Goods program?
Does Amazon, historically, share the buy box?
Is it known to be Private Label or have Intellectual Property (IP) issues?
Using a simple stoplight format, you will know if or which Alerts apply to the current lookup.
Offers Panel
Other sellers, their prices and inventory directly impact your sourcing decisions. The SAS Offers panel presents  the details you need to understand such details. You see the current list of top sellers, by price, and including their estimated stock level.
Knowing where to price the product is also critical. So SAS shows you profit and ROI if you match the price of other sellers to help you evaluate if or how you will meet your profit and return requirements.
Ranks & Prices Panel
Ranks & Prices share some of the largest factors in evaluating a product.  Ranks & Prices gives you the detail you need to have full knowledge of how the product sells, both currently and historically:
Product BSR
Buy Box price and prices of Amazon, the lowest FBA and lowest FBM sellers
Estimated Sales of the product per month
Estimated time for you to sell the product
Quickly switch views within the panel from current to historic – 30 days, 90 days, 180 days or the history of the product – to see the full picture.
Profit Calculator
See a true view of the possible return on your sourcing investment, including all the necessary costs and fees, with the SAS Profit Calculator:
Will Profit and ROI meet your requirements?
Adjust your Cost Price and Sale Price to see the impact
See the impact of selling FBM vs FBA
See a breakdown of all fees and taxes
Breakeven sale price, Profit Margin and Estimated Amazon Payout are also displayed
Changes to any of the variables in the Profit Calculator adjust calculations instantly. Don't source based on estimations! See the true possibilities.
Keepa Panel
Keepa charts provide critical data to your Amazon sourcing. SAS provides a glimpse view, within each product lookup, to help you see price and BSR history, Buy Box, FBA and/or FBM prices. No Keepa subscription is required either. AL – NEED MORE HERE.
Google Sheets Panel & Export
Analyze in bulk by exporting your analysis data from SAS to a Google Sheets spreadsheet. Factor in your own formulas to create your bespoke master sourcing tool. Export the key fields you need by telling SAS which data you want and in which order. Export to multiple spreadsheets or a specific sheet, it is up to you.
Seller Central
Link to your Amazon Seller Central account and in a single click: add the product to your inventory, check for inventory of the product, confirm any pending orders or hit the SC homepage.
Product Panel
When analyzing a product, confirm details of it in the Product Panel:
Confirm and even copy the ASIN and EAN/UPC
View key product details: ratings, images, dimensions, weight, listing bullet points
One-click link to the Amazon listing or a Google search on the title
The Product Panel is always present. So rest assured you are analyzing the product you seek, using the data within it.
Lookup History
At a glance, understand if and when you have previously analyzed the product. See the source of the product plus the Cost and Sale Price used in that lookup.

Arbitrage Hero Reverse Search Panel

SellerAmp and Arbitrage Hero have teamed up to bring you an integrated Reverse Search. Automatically see which merchants sell the product you are analyzing, and see their price, perfect for:
Confirming your price is a good one
See what merchants are selling the product 
Perhaps find another source!
Arbitrage Hero subscribers get unlimited lookups. Not a subscriber? You still get access to limited lookups.
Discounts Panel
Sourcing with a discount? Understand the bottom line impact, on a moments notice. Select your discount and SAS immediately calculates the impact to your profit and ROI. 
eBay
Sourcing with a discount? Search the product on eBay to see listings or recent sales, and prospect another possible destination to sell. 
European Marketplaces
Get a quick view as to the possibilities of selling in European marketplaces. And with one click, convert your SAS analysis to focus on a different country.
Seller Tool Kit Panel
In partnership with Seller Tool Kit (STK), easily understand your sales history with the product you analyze in SAS. Subscribers of both tools see current inventory, sale price, sales history details and more.
ROI
See the required sale price for a range of different ROIs and Profits and understand the possibilities.
VAT Settings Panel
Default VAT status is set up in your Settings. But VAT panel enables you to override it for products having different VAT status.
Product Lookup History at Your Fingertips
Every product you analyze is saved in your history, no matter which tool you use. Return to any product for further analysis or to get an updated view. What may have not been profitable before may now be a perfect product to buy. You can also apply tags to your analysis for easier filtering in the future.
Speed You Need When Sourcing
Speed is key when sourcing. You need to find products fast, buy them and sell them. SAS knows the critical nature of speed when analyzing products and prioritizes speed with: 
(AL…WHY IS SAS SO FAST…WHAT SHOULD BE SAID)
Automatic Chrome extension launch on any Amazon product page
Quick links in all Amazon search results pages – for one click analysis
Lightning fast scanning and results on the mobile app
No data entry is even required to get results. Get set up so SAS knows your requirements and analysis is automatically presented when a product is searched.